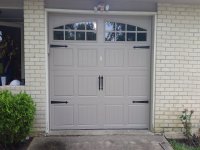 Garage doors are an essential part of any home or business. They offer security, protection from the elements, and add curb appeal to your property. But what happens when it's time for a garage door installation? It can be daunting to know where to begin and what to expect.
In this blog post, we will discuss the basics of garage door installation, including why it's important to hire a professional installer and the steps involved in the process. We'll also talk about the typical timeframe for installation and factors that can influence it.
Finally, we'll provide tips on how to ensure a smooth garage door installation process so that you can enjoy your new door as soon as possible.
Understanding the Basics of Garage Door Installation
When it comes to garage door installation, it's important to understand the basics. Knowing the essential components of a garage door system is crucial. Homeowners should also explore the different types of garage doors available to find the best fit for their needs.
We highly recommend hiring professionals for the installation to ensure safety and proper functioning. Additionally, a new garage door can significantly upgrade the look of your home and add value. Consider the benefits of a custom garage door tailored to your unique requirements.
Importance of Professional Garage Door Installation
Here are some key points to keep in mind when it comes to garage door installation:
It's important to ensure that your garagedoor is installed by an expert to avoid costly repairs or replacements later on.
Professionals have the necessary knowledge and experience to handle any type of garage door, giving you peace of mind.
With professional installation, your garage door opener will be correctly installed, ensuring smooth operation.
Investing in a professional garage door installation can provide you with a hassle-free and long-lasting solution.
Steps Involved in Garage Door Installation
If you're planning to install a new garage door, it's important to know what to expect. Here is a breakdown of the process, from choosing the right door to post-installation checks and adjustments.
Step 1: Planning and Choosing the Right Door
When planning a garage door installation, it is crucial to consider various factors such as design, material, insulation, and security. Research different types of garage doors, including sectional, roller, or tilt-up options.
Additionally, take into account your budget and the style of your home. Consulting with professionals can help determine the best garage door for your specific needs. Obtaining quotes from multiple providers and comparing their offerings allows you to make an informed decision.
Step 2: Pre-Installation Preparations
To ensure a successful garage door installation, it is crucial to prepare your garage properly. Clear the area of any obstructions or belongings that could hinder the installation process. Check the electrical wiring and outlets to ensure they are compatible with the garage door opener. Before installation, assess if any repairs or modifications are needed. Gather all the necessary tools and equipment for a smooth installation. Lastly, prioritize safety by following guidelines to prevent accidents during the process.
Step 3: The Installation Process
During the installation process, our team of professionals will expertly install the garage door panels, hinges, rollers, and other necessary components. They will also connect and program the garage door opener, ensuring seamless functionality. Our technicians will make any necessary adjustments to ensure proper alignment and smooth operation. Safety is a top priority, and we will rigorously test the auto-reverse feature to ensure it functions correctly.
In addition, we provide detailed instructions on how to operate and maintain your newly installed garage door.
Step 4: Post-Installation Checks and Adjustments
Once the garage door installation is complete, our team of professionals will conduct thorough checks to ensure that everything is in perfect order. They will carefully inspect every component and make any necessary adjustments to ensure optimal performance. This includes checking and adjusting the balance and alignment of the garage door if needed. We will also perform functionality tests, such as opening and closing the door, to ensure smooth operation. Rest assured, any issues or concerns will be promptly addressed before we consider the installation process complete.
Timeframe for a Typical Garage Door Installation
When it comes to garage door installation, the timeframe can vary depending on several factors. The complexity of the project and the type of door are key considerations.
On average, a professional installation can take anywhere from a few hours to a full day. Larger or custom doors may require additional time for customization and installation. Other factors, such as weather conditions and unforeseen complications, can also influence the timeline. For an accurate estimate tailored to your specific requirements, it's best to consult with the professionals.
How to Ensure a Smooth Garage Door Installation Process?
To ensure a smooth garage door installation process, research and choose a reputable company. Obtain multiple quotes and clearly communicate your needs. Prepare the area, clearing obstructions and ensuring proper electrical connections. Follow any pre-installation instructions provided by the professionals.
Garage door installation is a complex process that requires careful planning and execution. It is essential to hire a professional for this task to ensure safety and efficiency. From selecting the right door to post-installation adjustments, each step plays a crucial role in the overall timeline. Factors like the size of the door, type of installation, and any additional customization can influence the duration of the installation process.
To ensure a smooth garage door installation, communicate your requirements clearly to the professionals. They will guide you through the entire process, addressing any concerns or questions you may have.
If you are considering garage door installation, don't hesitate to get in touch with us at Dave Moseley The Door Guy. We are here to assist you and provide a seamless experience from start to finish.