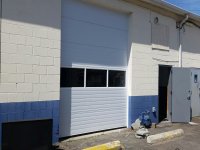 We don't know we need Garage door services until something happens to our garage doors. It is such a big door, mostly reliable and hardly breaks down, so we don't pay much attention to it. But because it is a moving mechanism, time will come when we definitely have to have it serviced.
Garage Door Service in Berlin, NJ
You need the excellent services of a reputable garage door servicing company to get out of situations like this. And bring your garage door back to optimum operating capabilities. That's why the residents of Berlin, NJ have very little to worry about when it comes to their garage doors. Because they have a professional and skilled garage door repair technician in their neighborhood, who charges them very reasonably. And always gets the job done, in the best time possible.
The garage door technician is Dave Moseley The Door Guy. Over the years, the residents have relied on the high-quality garage door services that Dave Moseley provides. Often commending the incredible efficiency of the garage door repair services, maintenance services, and garage door installation services the company provides.
Garage door services
Dave Moseley Garage door technicians are very skilled in providing the following garage door services:
Fixing Garage door springs and motors
Garage door installation
Fixing broken and tangled cables
Fixing damaged and broken panels
Garage door maintenance
Fixing issues with garage door remotes
Fixing noisy garage door
Make your old garage door operate smoothly again
Call Dave Moseley The Door Guy for Garage Door related problems
When you search for Garage servicing companies in Berlin, NJ, you're sure to find a few. But we can guarantee you, none of them provide the level of job quality we do. We don't do the kind of jobs that'll make you call us a day or a week after we are done asking for further repairs. When we work on your door, it stays fixed for a very long time. Hence, the durability of our job is unmatched in our territory.
Since we 100% chasing after your satisfaction as our customer, we always make sure we are ready to serve you. We always have the right tools, the best parts, and the hands ready to get to your need immediately you call. Our clients can attest to this fact. Anybody can say they provide quick and efficient garage door services but only a few can prove it.
That is why the residents of Berlin, NJ depend on us. We are dependable. And we are so proud to say it. That's why we can tell you this:
Anytime you need garage door services in Berlin, NJ, do not hesitate to call Dave Moseley the Door Guy on this number 856-275-7766. You can rest assured that you will be attended to swiftly.