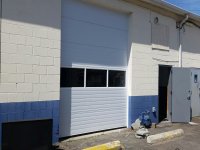 Having problems with your garage door is totally unavoidable. It is a large moving mechanism, it is subject to wear and tear. And even if nothing absolutely goes wrong with it, in the spirit of safety, you will have to change some parts eventually.
This can sound like a job anyone can do. But a garage door isn't something you want to tamper with so easily. You need a professional technician who is trained to handle this kind of machinery to help you with it.
These are the 4 things you will save yourself from if you call your local professional garage door technician to handle your garage door repairs and maintenance for you.
4 Things to Avoid when you get Professional Garage Door Services
#1 Avoid domestic accidents and injuries
Of course, this almost goes without saying. If you try to work on machinery you are not licensed to work on, you present yourself to hazardous situations. Especially if you don't have an engineering background. You expose yourself to unnecessary occupational risks that a professional would have been in a much better situation to handle.
#2 Avoid wasting your time on irrelevant tasks
You will save time when you work with a professional. You fixing the problem by yourself when you don't know where to find the issue is time-consuming. An experienced technician will know exactly what to do and with what tools to do it. In the end, you save yourself time. You can solve your problem and continue with the rest of your day.
#3 Avoid spending money on unnecessary items
Fixing your door by yourself can turn out to be a situation of trial and error. This is will cause you to waste a lot of money as you will be trying to figure out what works best in solving your current problem. Avoid this wastage by calling a certified garage door technician to help you.
#4 Avoid getting into stressful situations and creating more problems
It's very evident that a professional knows exactly how to solve any problem you have. You, on the other hand, may not be as experienced as they are in fixing a garage door. You will avoid creating more problems and save time and money by working with a qualified garage door technician.
Garage door services in Berlin, NJ
When you search for Garage servicing companies in Berlin, NJ, you're sure to find a few. But we can guarantee you, none of them provide the level of job quality we do. We don't do the kind of jobs that'll make you call us a day or a week after we are done asking for further repairs. When we work on your door, it stays fixed for a very long time. Hence, the durability of our job is unmatched in our territory.
Since we 100% chasing after your satisfaction as our customer, we always make sure we are ready to serve you. We always have the right tools, the best parts, and the hands ready to get to your need immediately you call. Our clients can attest to this fact. Anybody can say they provide quick and efficient garage door services but only a few can prove it.
That is why we the residents of Berlin, NJ depend on us. We are dependable. And we so proud to say it. That's why we can tell you this:
Anytime you need garage door services in Berlin, NJ, do not hesitate to call Dave Moseley the Door Guy on this number 856-275-7766. You can rest assured that you will be attended to swiftly.